How do I configure my LD5 to use the Apex service?
Note: After changing the PPP solution to APEX the demodulator will then require up to 30 minutes to reconverge and output a PPP position.
To change the PPP calculation from Ultra to Apex select the GNSS page from the home page: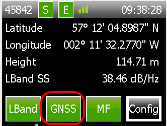 Then navigate to Config > PPP Config. The PPP Config setting is used to determine which PPP solution the LD5 will produce:
Select (✔) to display the options (APEX or ULTRA) and use the Up/ Down arrows to select APEX.
Select (✔) to amend then navigate to Apply and select (✔) to switch to this PPP service.