How do I change the PPP solution when my LD6 is enabled for both Apex and Ultra services?
When the LD6 is enabled for both APEX and Ultra the unit can only calculate and output one PPP service. There is an option within the MMI to select the PPP service in use.
Note: Take into consideration when changing PPP services that there will be up to a 30 minute settling period where there will be no PPP output.
To view which PPP service is currently selected for use select Solutions > Config, and then press the right arrow until the PPP Service page.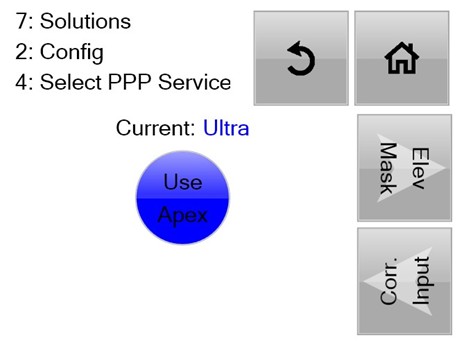 This page will show the currently selected PPP Service and a round circle below, showing the other PPP service option. This page is not available when only one PPP service is enabled.
To change the PPP service press the circular Use Apex* button in the center of the screen. Once this is pressed you need to confirm you wish to do this, press Yes and the PPP service will change.
*This will display Apex or Ultra depending on which PPP service is currently in use.