How do I enable and output a heading from an LD6?
LD6 105 systems (running software version 105.0.0.10 or later) are capable of calculating a GNSS heading solution. In order to use this feature, the LD6 may need to be enabled with a heading license PIN. A license PIN can be obtained from your VERIPOS project manager, there may be a cost with enabling this feature.
Once the heading licence PIN is obtained, navigate from the main screen to Settings > License > Config then choose Heading. A new page will appear asking you to Enter License PIN. Enter the license PIN using the Up/ Down arrows and Insert button, to apply press Confirm.

A message will then appear to indicate if the code entered was valid. If the code was not valid, check and re-enter. If it is still not accepted, contact the VERIPOS Helpdesk for assistance.
Once the Heading functionality is successfully enabled, the heading will become available in the Position info page that can be accessed by navigating from the LD6 home screen to GNSS > Status > Position Info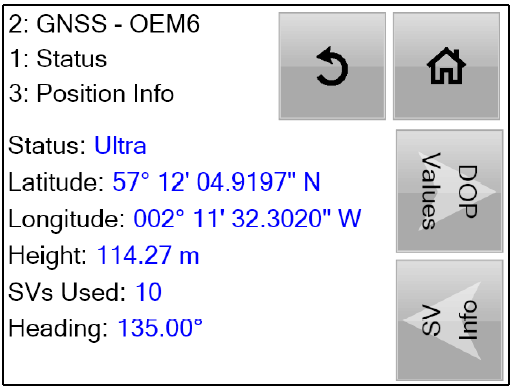 For the GNSS heading to be calculated by the LD6 a secondary GNSS antenna will need to be installed and connected to the LD6 auxiliary GNSS antenna connector.
To output the heading from the LD6, the NMEA HDT sentence has to be enabled on an existing or a new NMEA output . To enable HDT sentence, navigate from the LD6 home screen to GNSS > Config then select either NMEAa, NMEAb or NMEAc output stream and then click Edit. Use the Up/Down arrows to enable HDT sentence and click Enable. The NMEA HDT sentence should now be available on the specified NMEA stream, for serial output an additional port may require to be configured.