How do I set up LD6 Outputs for VQC?
The following steps help in setting up an LD6 outputs for Verify QC. Note that these steps are only applicable for LD6 versions 8, 50 and 101. If required see How do I tell which version of LD6 I have?
LD6 Configuration
When the LD6 is running in Verify QC Mode, COM Ports 9 to 14 are assigned to be used for Verify QC. The user must set the desired Baud Rate, Data Bits, Parity, Stop Bits and Protocol prior to configuring the input or output IO Device in Verify QC.
This can be done by navigating from the LD6 home screen to Settings > IO. To do this press the and scroll to desired com port in the list (COM 9 to 14):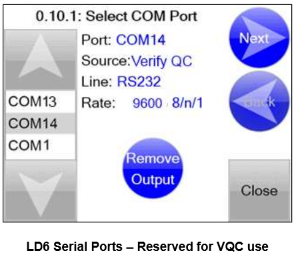 Click Next to display the Select Device page. This should be set to Verify QC and should not be changed later by the user.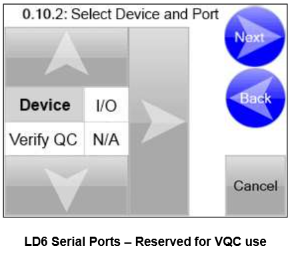 Click Next then select the Line Standard from RS232 or RS422: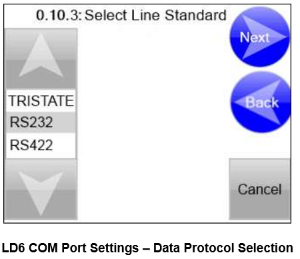 Click Next then select the Baud, Data, Parity and Stop Bits and then select Finish: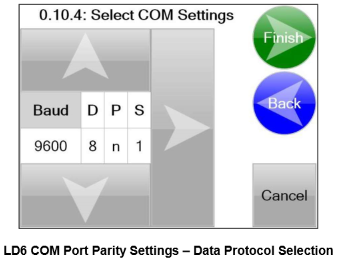 A window will appear to confirm the correct settings, if the settings are correct click Yes.
Verify QC Configuration
In Verify QC Config > Position Output, in the Output / IO Device section the user should set the IO Device to LD6 Port:

In the Port list there will be predefined ports (LD6 P9 to LD6 P14):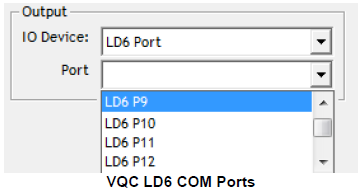 The user should then select the desired Port:

A Com port already in use by Verify QC or another application on the PC will be grayed out in the Port pull down menu.
The Baud rate must match the settings of the device connected to Verify, or the setting required for the output string. Data Bits, Parity and Stop Bits can be changed if the interfaced device does not use the 8 NONE 1 protocol.
CLIENT SOCKET
RTCM and Demodulator Status data can be received from other applications on the network using Client Sockets with the TCP/IP protocol.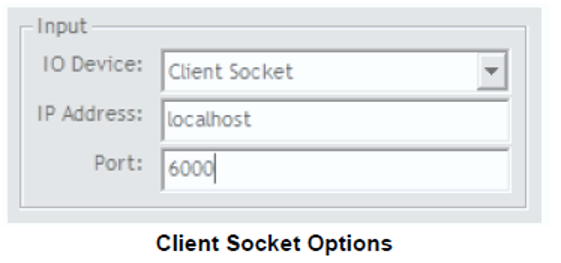 The Client Socket dialogue allows users to enter the IP Address of the device serving out the data and the Port on which the TCP/IP data is present. If the data is coming from the same computer as Verify QC the IP address should be left as localhost. Ports range is between 0 – 65535.