How do I find my LD900 IP address?
The LD900 is preconfigured with a static IP address of 192.168.2.91 for LAN1 (data output) and 192.168.2.92 for LAN2 (Quantum connection). Either IP address can be changed to a different static IP address or switched to use DHCP.
The LD900 IP address can be determined by navigating to Receiver > Network: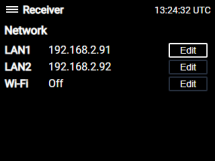 For guidance on changing IP addresses see FAQ How do I change my LD900 IP address?