How do I check the GLONASS option on my Topcon GNSS Receiver in an LD2 IMU?
To check the GLONASS option you will need to have installed the Topcon software PCCDU which is available at the bottom of this article.
When you have installed the PCCDU software you can check the GLONASS option by following the steps below.
Connect a 9 way D serial cable to the LD2 on Port 3 (Switch on rear panel of LD2/LD2S should be set to Port 3 GPS).
Note: If LD2 does not have Port3 switch on rear panel connect 9 way D Serial Cable to P5 and set P5 to Remote in Configuration- Serial Ports on the LD2.
Click on the PCCDU icon and select the PC COM port you are using.
When the software has connected, select from the main menu Tools > Receiver Options:
This will then display the Option Manager dialogue (Figure below). By looking the Option Manager it can be seen that the lease time of GLONASS option has expired and the option is not installed: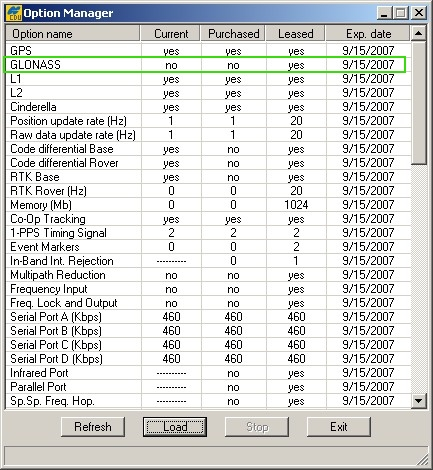 The figure below shows the option manager dialogue indicating that the GLONASS option is enabled on the GPS card: