What are the tracking capabilities of my LD2 and what services are available to my unit?
With VERIPOS LD2 units there are multiple different variations available with regards to the capabilities of the units.
The LD2 has the capability to have 1 further optional receiver installed within the unit, there is 2 options of additional receiver. The 2 options are an IALA MF receiver can be installed which will the unit to receive IALA corrections which is a free 3rd party service. The second option is a combined HF and MF receiver, which will allow user to configure the receiver for either IALA or the VERIPOS HF service (which has limited availability). The VERIPOS HF service requires an enable code, which is controlled by the VERIPOS Helpdesk.
The diagram below explains how to determine what variation of the VERIPOS LD2 IMU you have along with the tracking capabilities: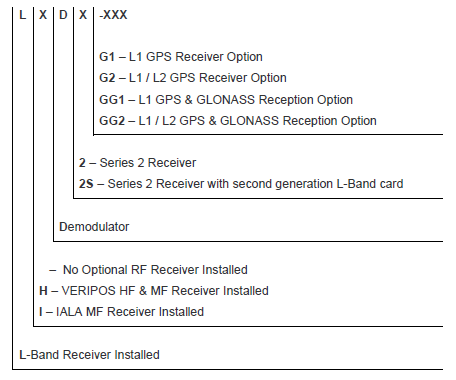 Depending on the tracking capabilities of the GNSS receiver the available VERIPOS services will vary. In the table it below shows the different services available from VERIPOS along with the different GNSS tracking options: