How do I configure my LD3S-GG2 to use the Apex service?
Note: After changing the PPP solution to APEX the demodulator will then require up to 30 minutes to reconverge and output a PPP position.
A prerequisite for changing the PPP Service on an LD3S-GG2 is to have the program Septentrio Rx Tools installed. You can download this software here.
Once installed and connected to the unit through the GPS port, the option to switch PPP service can be found in the Rx Control module. From the main menu select Navigation > Positioning Mode > PPP and Differential Corrections and then select APEX: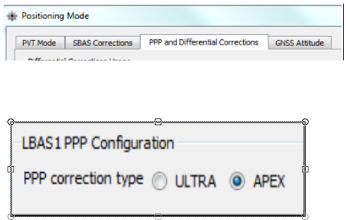 Confirm the change by clicking OK.
Once APEX has been selected the configuration will need to be saved to receiver memory, so that the receiver will load its last known settings upon boot.
Open the Copy Configuration window in the File drop down menu. Select Source as Current and Target as Boot and click Apply: