How do I run the VERIPOS L-Band Control software to configure my LD3 or LD3S?
VERIPOS L-Band Control 2 configuration software must be installed on an external PC. This software is available at the bottom of this article.
The software can be installed on any computer running the Microsoft Windows XP/ Windows 7 operating system (.NET framework 3.5 required for software to run on the PC) with an available RS232 serial port. If no RS232 port is available, the user must obtain and install a suitable USB-to-serial converter.
Note: Earlier units were supplied with either "Veripos OEM" or "VeriposLBR" depending upon the receiver model. The new VERIPOS L-Band Control 2 application is compatible with all receiver models and is the preferred replacement for both of these applications. This software is used for configuring the demodulator.
Connect the VERIPOS configuration cable harness to the "Control" connector on the LD3 front panel. Connect the D9 OEM connector to a free RS232 serial port on the PC.
Locate the Veripos folder in All Programs on start menu and select VERIPOS L-Band Control 2. It will open LBand Control software as below: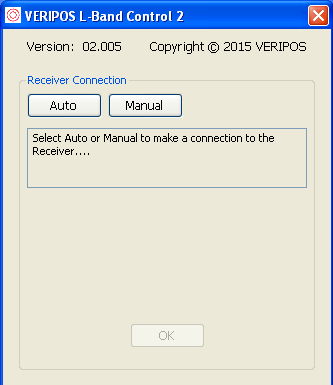 Select Auto on LBand control that will try to establish a connection between LD3 and PC: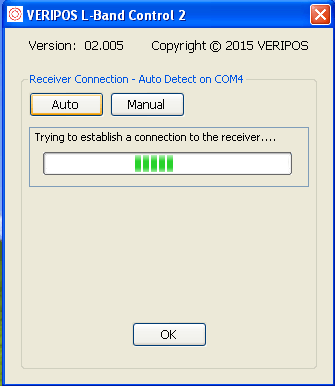 Once connection is established select OK to continue: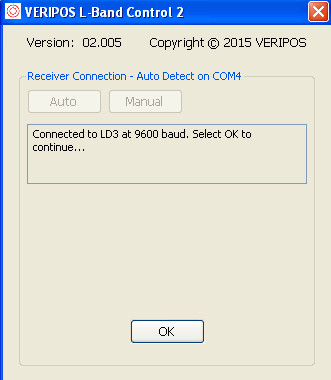 Click OK to display the Main Menu: Each configuration sub-menu is accessed from the main menu by clicking the appropriate button. Clicking Close to terminates the program.