I need to configure my LD3/LD3S, how do I connect a computer?
The LD3/LD3S is configured using the VERIPOS L-Band Control program which is run on an external computer. The program is provided on the installation CD which is shipped with the LD3/LD3S and is also available at the bottom of this article.
Note: VERIPOS L-Band Control is compatible with all models of LD3/LD3S and replaces the earlier applications VERIPOS OEM and VeriposLBR.
A special cable harness is required to interface the PC to the Control connector on the front panel which is shipped with the unit: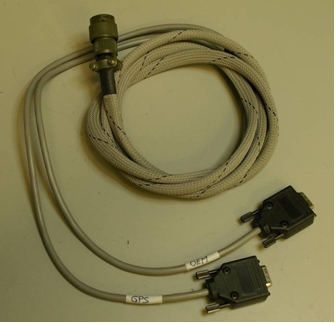 Depending on what configuration is required, either the OEM (L-band or demodulator configuration) or the GPS (GNSS receiver configuration) plug must be connected to a standard serial port on a laptop or PC.
For most common configuration requirements, the OEM plug will be connected and the VERIPOS L-Band Control software will be used.
On some occasions, it may be necessary to make changes to the configuration of the internal GPS receiver module. In this case, the GPS connector must be connected to the computer and Ashtech Evaluate software must be used.