Accessing an LD4 Signal Status using L-band Control
Accessing the LD4 L-band is done using the L-Band control 2 software.
Latest versions are available online from VOSS by clicking the following link VERIPOS L-Band Control 2.
If required power up the LD4 unit and connect to the L-band antenna.
With the L-Band Control 2 software installed on the PC with serial ports available, connect the DB9 "LBAND Com1" connector to an available RS-232 serial port on the PC.
Execute the L-Band Control 2 software - select the "Veripos L- Band Control 2" shortcut (Programs\Veripos folder in the "Start" menu).
The software will search for the correct serial port and when found communicate with the LD4.
When the connection is established, the screen will be similar to the one below: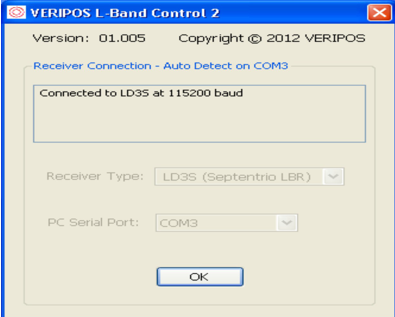 This page displays the unit type and baud rate used. Click OK then the main menu screen will be displayed: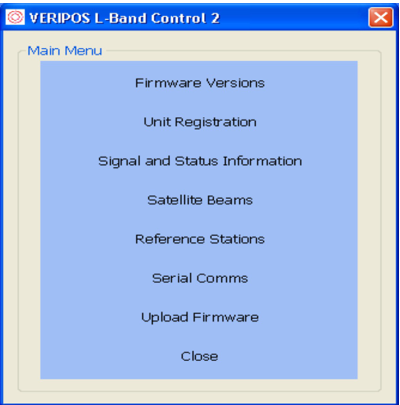 Select Signal and Status Information and this will display additional data on the status of the demodulator.