How do I configure my LD7 to use the Apex service?
Note: After changing the PPP solution to APEX the demodulator will then require up to 30 minutes to reconverge and output a PPP position.
Changing PPP Service via Web Browser (recommended)
To change the PPP Service in use access the web browser interface via the LD7 IP address (default 192.168.0.126). After this enter the unique LD7 User code, found on front of the LD7 unit (if browser is not accessible then it will be necessary to use Septentrio RX tools, covered in a later section of this document).
Once connected the main browser page will be shown, which allows access to the configuration of the LD7 IO, GNSS card and L-band card settings.
Navigate to the GNSS configuration page.
The LD7 can only compute an Apex or Ultra at any time. As highlighted below the LD7 PPP computation mode can be set on this page: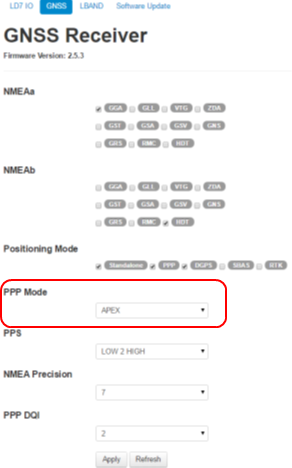 Select the drop-down box below PPP Mode and select APEX:

When finished selecting, click on Refresh to update screen before Apply to apply changes.
Changing PPP Service via Septentrio RX tools (back-up method)
If browser is not accessible then it will be necessary to use Septentrio RX tools, which can be downloaded here. Then connect COM3 of the LD7 unit to a free COM port on your PC and launch RX Control.
Select the radio button for Serial Connection and select Create New from the drop-down menu and click Next: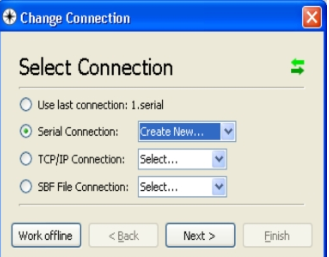 Select the Serial port on your PC interfaced with the LD7 unit and enter a Connection name: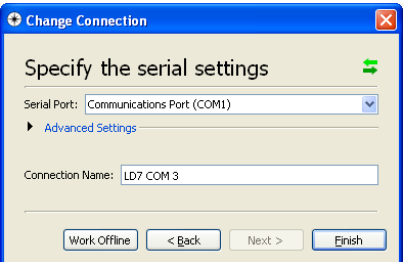 Click Finish and wait for a connection to be established. Once a connection has been established go to the top Main Menu select Navigation > Positioning Mode > PPP and Differential Corrections, then select the desired PPP service (if Apex and Ultra services are enabled on the unit):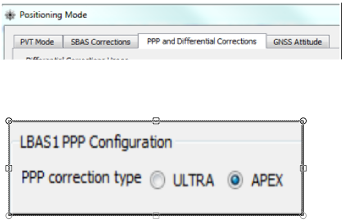 Upon completion of the setup, the configuration will need to be saved in receiver memory, so that the receiver will load its last known settings upon boot.
Open the Copy Configuration window in the File drop down menu. Select Source as Current and Target as Boot, followed by Apply: