I am using Verify-DPx. How do I enable/disable my LD3(S)?
Note:
LD3/LD3S units can only be enabled or disabled when receiving L-band signals from a geo-stationary satellite.
The ID indicator on the LD3/LD3S will be extinguished when it is first switched on. It will not be illuminated until the unit has locked to the L-band signal.
Ensure that the Sync indicator on the LD3/LD3S is illuminated before attempting to enable unit.
When using LD3 or LD3S units with DPX, the system will only operate correctly when they are enabled for Standard Service with Verify DPx Display.
Checking Current Status
The current unit status can be determined from the ID LED on the LD3 (or LD3S) front panel.
ID LED is on: LD3 (or LD3S) is ENABLED
ID LED is off: LD3 (or LD3S) is DISABLED
Determine Unit Code
To enable (or disable) the unit, the user must contact the VERIPOS Helpdesk. In order to receive over the air activation/deactivation, the Helpdesk require the User Code of the unit and your SAL code.
This can be obtained as follows:
From any main screen, touch the Demodulator key in the bottom right area:

This opens the Demodulator window:
Touch the Access button to open the Access Code window: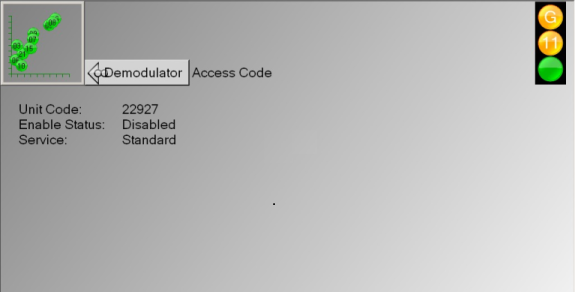 Note the Unit Code from the Access Code screen and enter this on the VERIPOS Signal Notification Form (SNF).
On this page the following information is displayed:
The Unit Code (this example 22927)
The Enable Status of the unit (this example Disabled)
The Service (this example Standard), this will not state if the unit is enabled for DPx or not, will just state the solution Services it is or has been enabled for.
Request Enable or Disable
Requests for enables/disables should be submitted by email to the VERIPOS Helpdesk at: helpdesk@veripos.com
Note: When using Verify DPx request both VERIFY DP DISPLAY and the STANDARD service options from the helpdesk.
Enable requests may be submitted by telephone- +44 (0) 1224 965900
Enable Verify DPx
Once VERIPOS have received the activation request, service requirements and SAL Code, the Helpdesk will send activation over the air to the unit.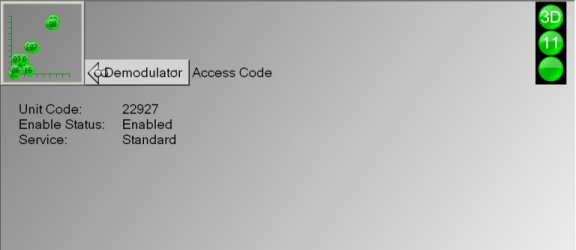 If the code was entered correctly the Enable Status and Service (if change to services) will update.
As confirmation that the system is enabled for use, the ID light on the LD3 (or LD3S) front panel will turn on. The DPx software will also stop warning the user there is a problem and the 3 status lights should go green.
Disable Verify DPx
The LD3 (or LD3S) is disabled in the exactly the same way by contacting the VERIPOS Helpdesk and requesting for the unit to be disabled.
As confirmation that the system is disabled, the ID light on the LD3 (or LD3S) front panel will change from continuously illuminated to off.