How do I archive data in Verify-QC?
Verify-QC automatically maintains a copy of all raw GPS and RTCM input data in proprietary file format. The last 72 hours of logged data is retained. Archived data for previous configurations is retained for 7 days before being removed automatically.
The "Archive" function enables the user to select a continuous subset of data and copy it to another location. This is typically used to copy the relevant data to a USB Flash Memory stick so that it may be transferred to another machine for offline replay or sent to the VERIPOS Helpdesk for analysis by VERIPOS technical staff.
Select Action > Archive Data from the main menu: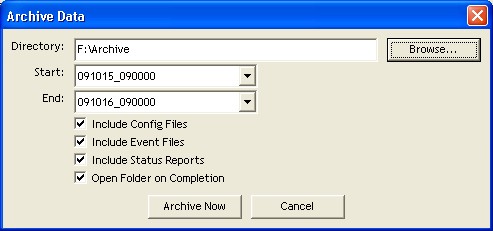 To archive data click "Browse" and select a location for storing the data.
Verify-QC will automatically display the available logging files in drop down menus. It is recommended to archive the complete data set and only send the files required to VERIPOS (typically 3 hours before an event and 1 hour after). This will ensure the files are not overwritten if further files are required for analysis.
The Verify-QC configuration and status files should also be archived by ticking all the check boxes.
Send VERIPOS the config files (.ver, .alm, .aps and .t3m) and selected log files (.alf) for the period which the problem occurred. If possible send data for 3 hours before the problem started and 1 hour after. The log filename syntax is YYMMDD_HHMMSS. This will make it possible to identify the files to send.
Note: Data can only be archived after the configuration has been saved.