How do I setup Apex as backup within Verify QC?
The first step is to ensure that the Verify QC dongle has the Apex option enabled by viewing the menu Help > Dongle > View. A window similar to the following image will be displayed and will show that the Apex option has a tick mark: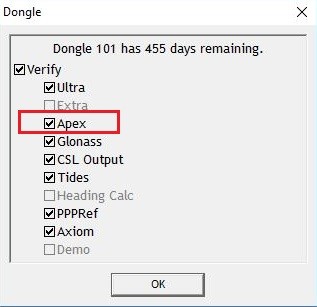 If the Apex option is not enabled then the dongle will need to have the Apex option enabled via the VERIPOS Helpdesk, otherwise proceed past this step. Navigate to Help > Dongle > Upgrade and copy the status code and email to the VERIPOS Helpdesk with a request to upgrade to incorporate the Apex service: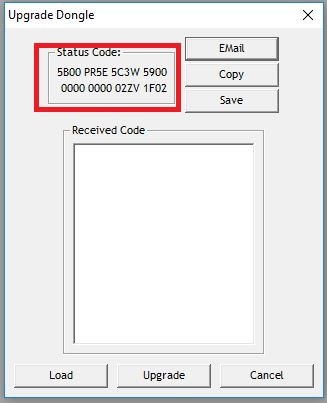 The Helpdesk will respond back with an email that includes a upgrade code. Using the same menu load this new code and then select upgrade. Finally check the APEX dongle option is enabled as done in the first step.
Now that we are confident the Verify QC system has the option to use Apex, the next step is to confirm that the Apex corrections are being received, this can be done by selecting the menu View > Differential > Latency: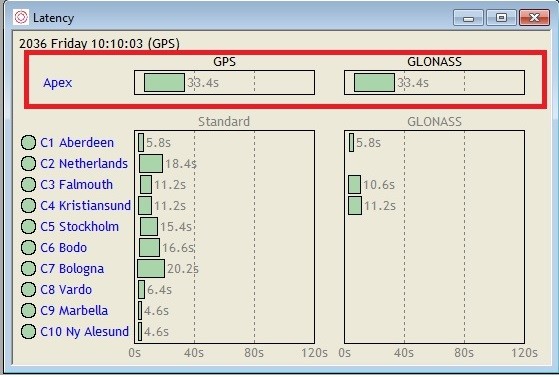 In the display above it can be seen that this Verify QC system is receiving regular updates of Apex corrections.
Now that we are confident that the Verify QC receives Apex corrections and the next steps are to ensure that the backup calculations are set up correctly for Ultra.
Select the menu Config > Calculation > Ultra and the following will be displayed: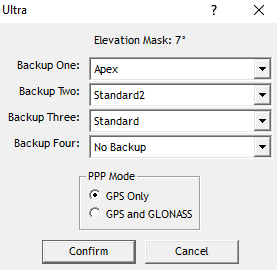 Configure the backup for the Ultra solution, set Backup One to Apex. Optionally Backup Two can be set to Standard2 and Backup Three set to Standard service.
In the case Ultra service fails it will go to next backup, Apex, automatically. If no Ultra back-up is set it will go to Uncorrected
If activated for Apex2 services ensure PPP Mode is configured to utilise the extra constellations. To do this go to Config > Calculation > Apex and set GPS and GLONASS.
Note changing PPP Mode will set calculation to reset and may take up to 30 minutes before using Apex need to wait for Apex to converge