I have rebooted my LD2, connected to Verify QC using the Ethernet Port and GNSS Rx in Calculation Status has turned red and stayed red. How do I get it green again?
From the screenshot of the Calculation Status window below, you can see that GNSS Rx is red. This means there is no calculated position received from the receiver. Raw measurements are still received which is why the Apex, Ultra and DGNSS are green, showing they have calculated position:

To rectify this user will need to initialise the receiver through Verify QC.
This can be done by selecting View > Receiver > Initialise: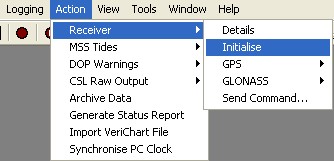 Within a minute of initialising the receiver GNSS Rx should turn green: