Tides - Can I use the Tides information in real-time?
Verify QC Tides can output the TideInfo or Sprint message format to Serial Port, Datagram (UDP) or Server Socket (TCP).
Note: The tide information is always written to log file stored in the user specified directory irrespective of the output settings.
To configure the tide output to external device select Config > Calculation > MSS Tides...: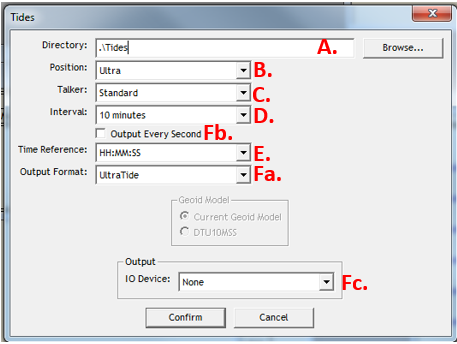 Follow these steps also:
Output Format (Fa). Select the output format depending on your requirement: This can be set to UltraTide (TideInfo format) or SPRINT
Output Every Second (Fb). If the output is required every second select the Output Every Second box. If this is not selected the message will be output at the end of the averaging period.
Note: If Output Every Second is selected the identical message will be output every second until the end of the current averaging period. At this point the message will be updated.
IO Device (Fc). Setup output device parameters (serial Port, Server Socket or Datagram):