Tides - What Antenna Height should be measured and what accuracy is required? Is this value fixed for the duration of a survey or should it be updated?
The "Antenna Ht." entry in Tides should be the measurement from the sea surface (vessel waterline) to the phase centre of the GPS antenna.
The measurement should be made to the best possible accuracy, preferably to better than 10cm.
The value will vary if there are any changes in the vessel draft. It should be checked at regular intervals and updated in order to maintain the specified level of accuracy.
It is NOT necessary to reset the Tide calculation after changing the Antenna Ht.
Note: The Antenna Ht. is only used to calculate Geoid Tide, it does not affect the MSS Tide.
To enter the Antenna Height in Verify-QC, it should be entered in the Config > Calculation > Settings... window: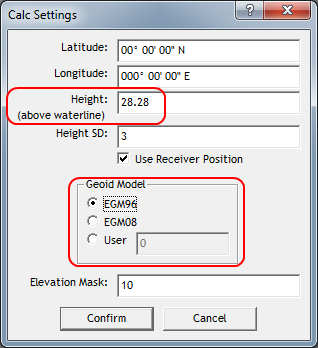 After the height has been entered the following message will appear, click OK if you want to confirm the antenna height change: