How do I enable an LD5 for a heading?
LD5 C variant systems use NovAtel 617D GNSS receivers, which by default have the capability to compute a GNSS heading. For a GNSS heading solution the LD5 C Variant will also need to be connected to an Auxiliary GNSS antenna (item 3 in the figure below):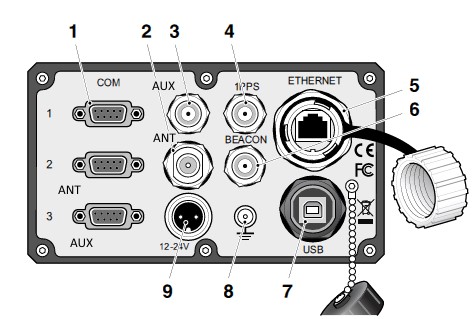 The LD5 C variant may be purchased with or without a heading capability. If a customer would like to purchase the heading capability at a later date then this can be facilitated by the entry of a secure PIN code (also referred to as an authcode or softcode) within the LD5. Once the PIN number is entered, the LD5 heading computation is permanently enabled. Note the heading computation does not require any Veripos Signal purchase, it is purely a function of the GNSS hardware
To obtain the heading PIN code raise a support request or email the Helpdesk. Quote the serial number of the LD5 and SAL code. The Helpdesk will revert with the dedicated PIN code (six alphanumeric characters).
To enter the PIN, go to Settings > Admin and enter the administrator password 'ABCDEF'. Within the Admin menu select the License option and enter the supplied PIN code:
Once the PIN code is entered the heading computation will be permanently enabled. Upon activation and with the correct GNSS antenna installations a heading computation will be calculated. The heading value can be viewed for confirmation purposes within the position status on the second page (use left or right button to view):