How do I configure NMEA sentences on LD6 versions 101 and 105?
Note that these steps are only applicable for LD6 versions 101 and 105. If required see How do I tell which version of LD6 I have?
The NMEA sentences can be accessed by navigating from the home screen of the front panel to GNSS > Config to locate the three NMEA data outputs, NMEAa, NMEAb, NMEAc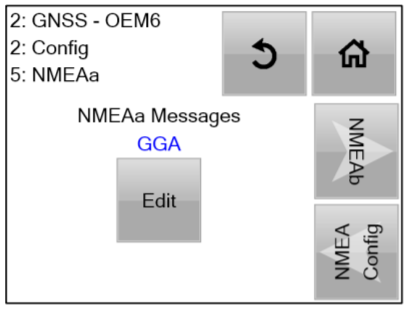 NMEAa, NMEAb and NMEAc are configured independently for output using COM port or LAN interface. All streams of NMEA data will output the same position calculation e.g. Apex2. Different combinations of NMEA sentences can be configured on each stream as is required by different type of vessel systems ( DP, Radar, ECDIS etc.)
To Configure the NMEA output sentances click Edit. Select the required sentence using the Up/Down arrows and click Enable to add or click Disable to remove the sentence. Finally click Update to apply the configuration and Close when finished.