What files should I send for data analysis from a LD6 while running quantum on board?
This article will detail the steps required to archive data from LD6 105 versions while running Quantum on board.
Archive LD6 data by inserting a clean USB memory stick which is not encrypted on a free USB port on the LD6 and select Archive Log Files once the splash screen appears. Once archiving completed remove memory stick from LD6 after pressing Eject all.
The required files will be stored within an LD6Archive folder, inside this folder the archive folder can be found. The archive folder will be found with date and time stamp of the archive as the name with three zipped folders inside the folder.
To analyse the data Veripos will require files with the extension .alf or .gps file if the software is 105.3.0.11 or later.
The .alf files can be found by extracting the Logs zipped file and browsing to the file path below.
\logs\d_DRIVE\Veripos\Logs\Data\Quantum
These .alf files will named with a date and time stamp in format ddmmyy_hhmmss.alf
Veripos will require a minimum of data three hours before the event and one hour after, copy out the required files and provide these to VERIPOS through the method request.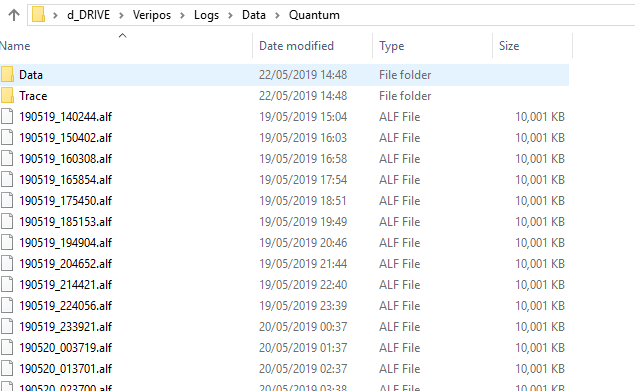 In case of the 105.3.0.11 or later software, The .gps file can be found under \logs\d_DRIVE\Veripos\Logs\Data\