How do I activate, configure and enable heading on an LD900?
The LD900 is capable of producing GNSS-based heading solution. However, the unit needs to be activated, configured and enabled for the heading.
The heading option will be present within the Status menu of the LD900 if the unit is licensed for Heading: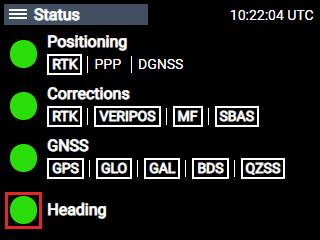 If the heading option is not available within the Status menu, then the unit needs activation for heading using an Authorisation Code which can be applied using Quantum software. The activation code can be obtained by contacting the Veripos helpdesk and providing the unit ID number, vessel name and SAL code. After applying the Authorisation code, check if the heading option is present in the Status menu.
To obtain a reliable heading solution, a good installation of the primary and auxiliary GNSS antennas is required, avoiding masking and multi-path environments. The heading precision is largely determined by the distance (baseline) between both GNSS antenna as shown in the table below. Veripos recommends minimum baseline of 2 m.
| GNSS Antenna Separation (Baseline) | Static GNSS Heading Precision |
| --- | --- |
| 2m | 0.08° |
| 4m | 0.05° |
| 10m | 0.02° |
Heading can be configured and enabled by navigating to Configuration > Heading then click on Edit for the State option and choose Enabled.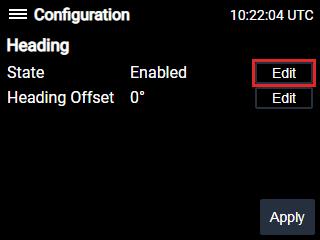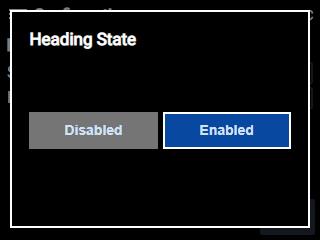 To enter a heading offset, click on Edit for the Heading Offset. Use the arrow keys to select Heading Offset, followed by tick. Then use the arrow buttons and tick to enter a value between -180.00° and 180.00°. Use the arrow keys to select Apply, right to select Yes and tick to apply the change: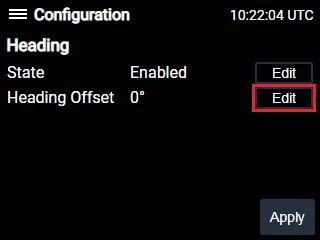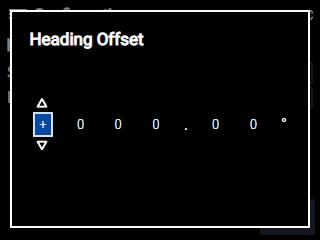 The use of a heading offset is optional, it is advisable for users to enter the offset within the interfaced DP or Survey software rather than in the LD900 where possible. This is to avoid the possibility for the double application of the heading offset which is a known risk.
To check that the heading is correctly configured and producing solution, navigate to heading status page Status > Heading where the heading indicator, computed heading, heading standard deviation and the heading offset is displayed. The indicator should be green and all values present.