How do I extend the duration of or upgrade my Verify-QC dongle?
The current dongle Status Code is needed when requesting an extended duration or upgrade and this information can be accessed from the Help menu within the Verify-QC program.
Help > Dongle > Upgrade… allows the user to copy, save or email the current dongle code. The code is needed when requesting a dongle upgrade or extending the duration of the dongle and will required by the VERIPOS Helpdesk.
If the dongle has expired then when you open the Verify-QC program a window will open stating the dongle has expired. Once OK has been clicked the program will then open up the 'Upgrade Dongle' window: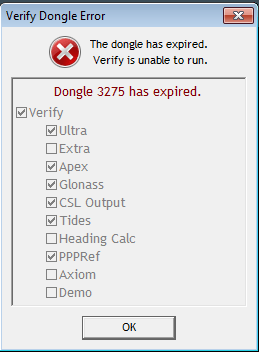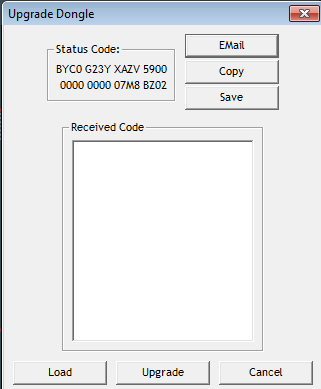 Pressing the Email button will start the user's default email software (e.g.MS Outlook), and open a new email message to be sent, with the dongle status code in the e-mail message body. The VERIPOS Helpdesk email address is automatically populated in the 'send to' address of the email.
VERIPOS Helpdesk details: helpdesk@veripos.com
The Save button will create an ASCII file with the *.dsf extension. This file can be saved by the user and then can be sent to the VERIPOS Helpdesk as an email attachment.
The Copy button will copy the dongle status code to the clip board so that it can be pasted into an e-mail.
Applying the Upgrade Code
The Upgrade Dongle window allows the user to enter or load a new dongle code for upgrade of the dongle. This will be relevant when the user needs to re-activate, extend the duration or add new software functionality to the dongle.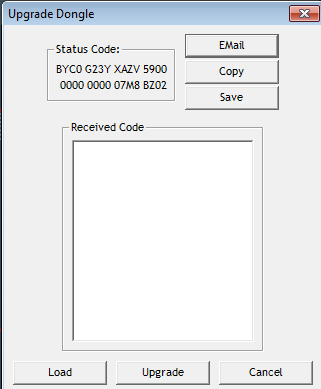 With the Upgrade Dongle window open, paste the code provided by the VERIPOS Helpdesk into the Received Code area. If the code has been returned in a .dsf format file click 'Load' and browse to the desired file, this will then insert the code into the Received Code area. The upgrade code will be sent to the dongle after clicking 'Upgrade'.
Once the code has been entered and successfully applied, the software will return a confirmation code. Users are required to send this confirmation code to the VERIPOS Helpdesk so the successful upgrade can be put on record: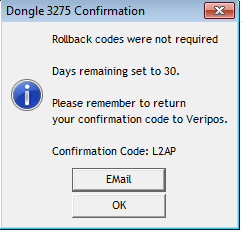 Once the codes have been entered the user can check if the upgrade has been applied as requested. Help > Dongle > View… in Verify QC will bring up a window showing the current status of the Dongle. The view will now also contain the latest confirmation code: