How do I access my LD8 logs?
The LD8 is configured to archive logged data using a rolling log technique. If an issues arises that requires troubleshooting this archived data will be used for analysis. VERIPOS may request that clients provide the archived data for the a specific period of time. Typically VERIPOS requires archived data spanning 3 hours prior to an incident , the duration of the incident and 1 hour after the incident.
The archived data can be accessed by using the LD8 web User Interface (WebUI). With this WebUI navigate to Device > Export, the current active log file will be displayed and logged files which have already been logged and filed. Each file has its file size shown as well as a date and time stamp.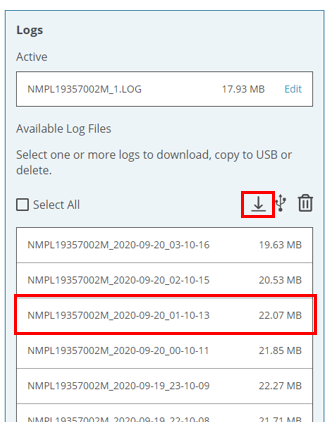 Highlight the files which span the incident period (with 3 hour before and 1 hours after the incident) then click on the download icon to start downloading the files to a PC.
To download all logged files follow the instructions detailed in the FAQ How Do I Download All Logged Data Files from an LD8