Charting the Course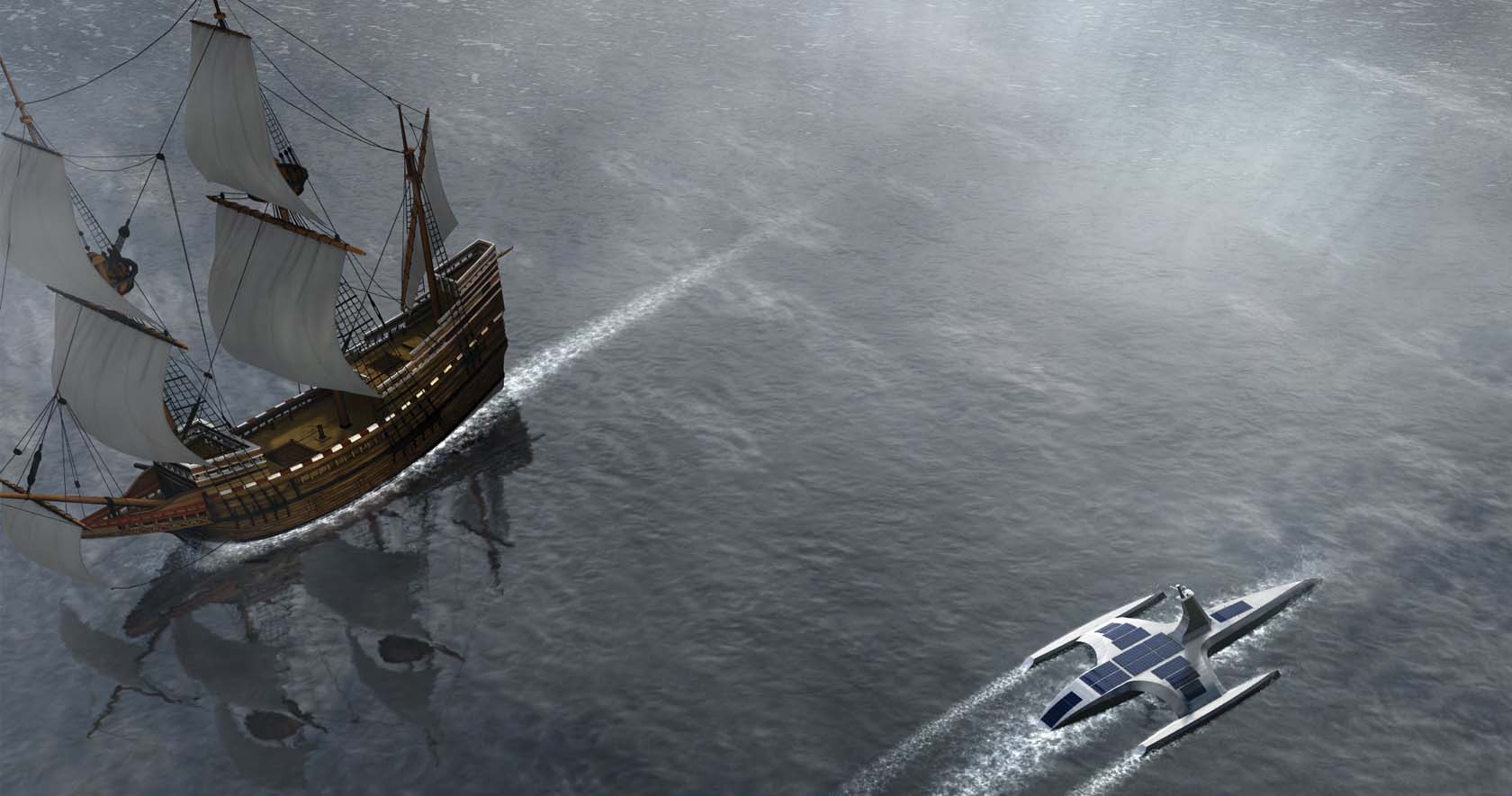 In September 1620, the Mayflower ship set sail on its iconic voyage from England carrying 102 passengers in search of a New World. It became a defining moment in history—one that captures the pioneering spirit of adventure, courage and pushing forth into the unknown.
As the 400th anniversary of that historic expedition approaches, a modern-day team of pioneers—including scientists, submarine builders, non-profits, researchers and technology partners—are setting out on their own journey to build a new Mayflower ship that will retrace the route from Plymouth, England to Plymouth, Massachusetts.
With aspirations to further the development of autonomous ships, transform marine research and inspire the next generation of dreamers and doers, the Mayflower Autonomous Ship (MAS) is set to embark on its maiden voyage in the spring of 2021. When it does, there will be no passengers on board, making it one of the first full-sized, fully autonomous vessels of its kind to cross the Atlantic.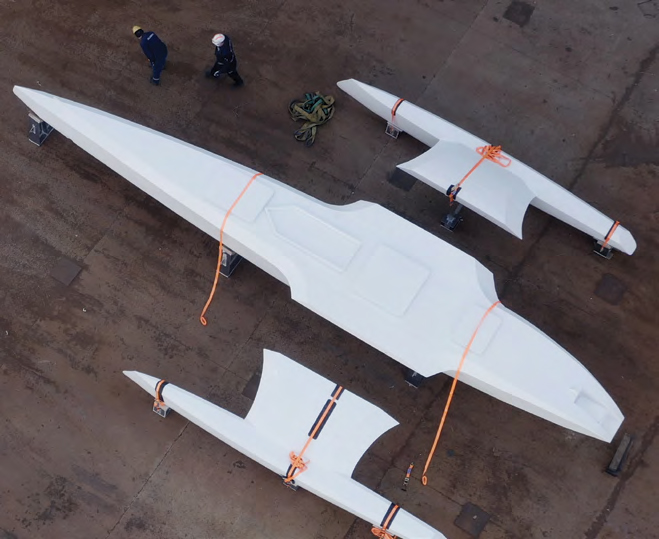 Setting Sail
MAS' journey begins with a man named Brett Phaneuf, President and Managing Director of Submergence Group and Marlin Submarines Ltd. (M Subs), which specialize in the design, manufacturing and operation of manned and unmanned submersibles.
When city government officials of Plymouth, England were preparing for the "Mayflower 400" celebration and proposed building a replica of the original vessel as part of the city's festivities to honor the ship's past, Phaneuf asked them to consider a different approach: to build a new version that would honor the future as well. They were immediately on board with the idea.
Inspired by the potential of the project, Phaneuf committed his engineering expertise to the ambitious effort and joined forces with Fredrick Soreide, a fellow director on the board of marine research organization ProMare, which is leading the effort. They envisioned the ship as a research and development vessel that could be used beyond the transatlantic voyage for years to come, and began forging partnerships with academic institutions like the University of Plymouth and University of Birmingham, to name a few.
While the initial launch goal of September 2020 has been delayed due to COVID-19, the team has been busy conducting comprehensive sea trials and are preparing for a big event on September 16, 2020 to commemorate the voyage, with plans to launch MAS in the Spring of next year.
"We'll pick our weather window, point west and go for it," Phaneuf says. "The upside of the delay is we have more and more science payloads being integrated, so we'll have a better, more reliable platform to do more sophisticated science."
AI, AI, Captain!
Indeed, that extra time has been well spent, allowing the project team to gain more partners and sponsors who recognize the MAS's potential. They've been refining the ship's design, testing its components and making structural improvements to the ship in preparation for its voyage.
As a result, this new Mayflower has traded in the traditional wooden hull, sails, nautical star charts and captain for cutting-edge upgrades. It boasts an aluminum composite structure that relies on solar panels, a state-of-the-art inertial navigation and precise GNSS positioning system and advanced "AI Captain." In lieu of a crew, it has a virtual command center, and while there will be no passengers, millions of "virtual pilgrims" will be able to experience the journey online.
While the original Mayflower explored new land, MAS is focused on the other 71 percent of the Earth's surface: the ocean, of which only five percent has been explored. Equipped with three research pods that contain sensors and scientific instrumentation, it will spend vast periods of time at sea collecting data to advance understanding in maritime such as cybersecurity, sea level mapping and marine life.
"The beauty of this is that all the data that we create we'll give away, so it's all free, always," says Phaneuf. "We'll continue working with organizations who want to use this ship as a portal to push scientific data that can be used for research."
The goal is to offer a safer, more flexible and cost-effective solution than today's costly manned research vessels, enabling scientists to understand issues such as global warming, ocean plastic pollution and impact on important species of marine animals—but it's about even more than that.
"A huge part of the research is the AI side of this," says Phaneuf. "We'll constantly be refining and improving the capability of that system to be higher level in terms of capable functioning autonomy."
That element is being handled by IBM, a lead sponsor helping the ship to sense, think and act autonomously at sea through an advanced AI Captain that's equipped with cameras, edge computing systems and deep learning modules capable of avoiding hazards that come into MAS's view thanks to radar, AIS (Automated Identification Systems) and LiDAR.
"IBM has built a web portal that's staggering in its simplicity, elegance and effectiveness, and it's how we'll display all the data to the public in real time—where is it, where is it going, the health of the ship, what it's experiencing, and what it's detected," says Phaneuf. "They've even built a chat bot so kids, adults and scientists can talk to and query it."
Pinpoint Positioning
MAS' unmanned journey across the Atlantic (and later, the world) hinges on state-of-the-art navigation technology. That's why the MAS project team turned to Hexagon | VERIPOS, the global technology leader that's pioneering end-to-end assured positioning solutions for the offshore marine industry. The company equipped the ship with two LD8 GNSS receivers that will provide the vessel with a robust positioning system.
With these receivers, the ship will have a five-centimeter-level accuracy anywhere in the world and under the most difficult operating conditions, and it will be able to track up to three geostationary satellites that are broadcasting the Apex5 service. That means that as it traverses the Atlantic, it will seamlessly use data from all the correction satellites without an operator having to manually switch beams along the way.
"When you're out at sea, if you don't know where you are or where you're going, then it's not science; you might as well be writing fiction," says Phaneuf. "It's the fundamental thing required to do marine autonomy at all. To have accurate, reliable and precise positioning is key and you get that with VERIPOS' systems. This ship is going to have a positioning capability above and beyond all others."
According to David Russell, marine segment manager at Hexagon | VERIPOS, the multi-constellation, multi-frequency receivers with Apex5 correction service is the company's latest generation of receivers, and they're virtually tailored for a vessel like MAS.
"The compact LD8 receiver reduces the impact of satellite blockage by using multiple constellations which deliver robust positioning," Russell says. "You get the same accuracy from Apex5 no matter where you are in the world which is important for precise global navigation."
To date, VERIPOS has shipped the equipment and are assisting with integration work onto the vessel. When MAS gets to sea trials, they'll help to configure the systems and provide the training, expertise and 24/7 support needed to prepare for the voyage to the U.S. and beyond.
"This is a substantial demonstration of a full autonomous navigation project that could then can be scaled up to container ships to bulk carriers or almost anything in commercial
marine applications," Russell says. "It lays the foundation for a lot of future developments in terms of autonomy and what it's capable of."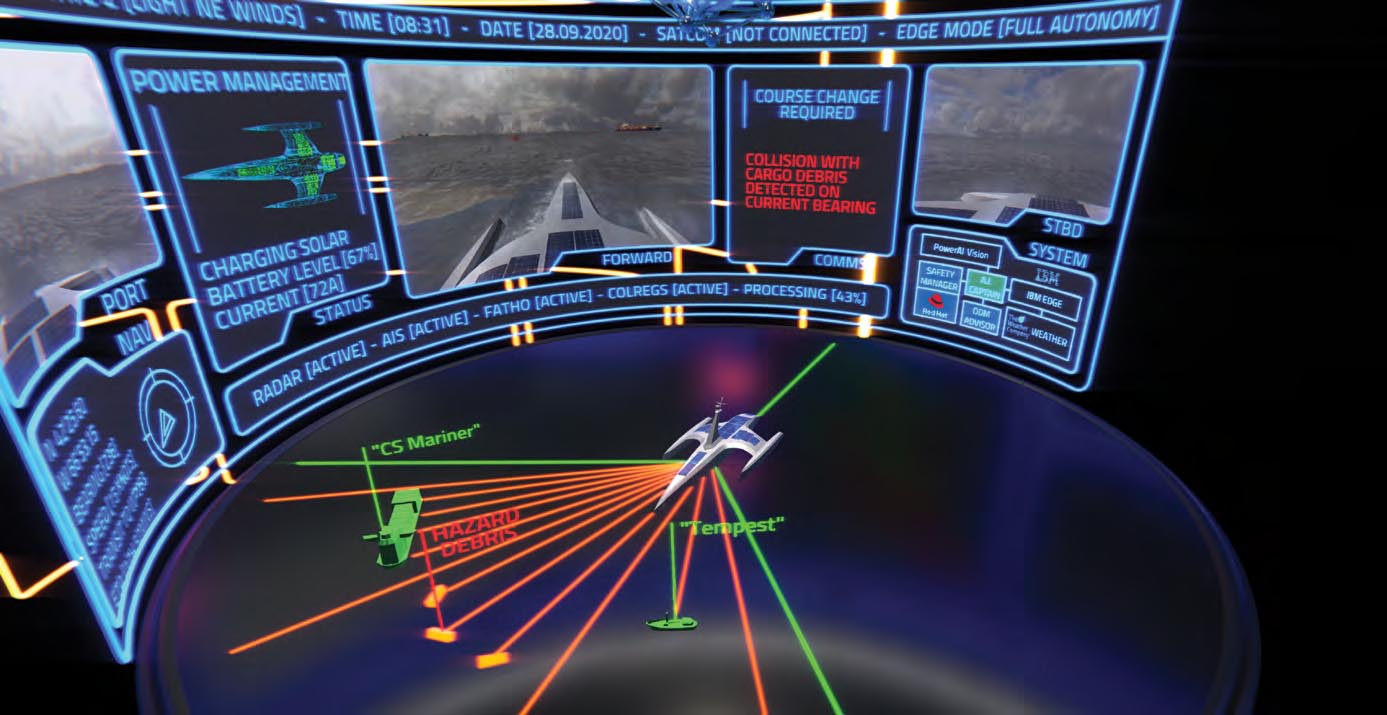 Unexplored Territory
Looking ahead, the sea won't be the only thing MAS has to navigate—the team also has legislative hurdles to overcome to move forward with the voyage, presenting uncharted waters. But as the saying goes, Phaneuf says, a smooth sea never made a skillful sailor.
"There are no laws or regulations on this, so we've applied for exemptions to help us make a cogent argument and explain what the ship is," he says. "Our boat is conceived, designed and built for no human control, so we have to go through a process to certify it and provide assurances."
In fact, that's the point, Phaneuf notes: to challenge the paradigms of what autonomy really means. "We'll start sea trials and demonstrate the capability to make regulators comfortable," he adds.
In the meantime, as they gear up for trials and pick up new partners and scientific payloads along the way, the team remains focused on the horizon. Once the ship arrives in Plymouth, Massachusetts its journey is far from over—it will be equipped with a receiver to track migratory fish and white sharks as it heads up the coast and then back to England.
It will then receive repairs and head to Bermuda, stopping at sites where the first oceanographic voyages were undertaken by the British Government 125 years ago. Then it's off to Norway in the winter of 2021, where it will receive new battery systems to extend its range and capability. If all goes well, Phaneuf says, it will then roam the fjords and, in the summer of 2022, arrive in the Arctic Circle.
"Because, why not? Life is short, right?" he laughs. "The goal is to carry on for as long as we can, until the ship can't do any more or until the ocean decides to have it. Then, we'll build another one."
A Moral Compass
While this project has far-reaching implications for marine autonomy and scientific research, it's clear that it's a deeply personal journey for Phaneuf, who says it integrates all his interests, from the sea to history, archeology, computer science and philosophy.
"I lived near Plymouth, Massachusetts as a young person and I live in Plymouth, England now, so it sort of bookends the chapters of my life," he says. "It's common for those who research the ocean to wish we'd gone to space—the challenges are similar in terms of acting at a distance with systems that need to be smart, resilient and reliable. Now we're talking with NASA about potentially collaborating, so in many ways it's like, 'OK close enough!'"
And while kids at home will be able to virtually log in and see MAS' discoveries and progress along the way, Phaneuf is adamant that it's no replacement for real-life experiences.
"I think of AI as augmented intelligence as opposed to artificial intelligence, because I want people to get excited about getting out beyond the screen," he says. "We can do a lot of things virtually and autonomously to preserve our most precious resource, our time; but technology should not deter people from going out into the world."
When asked about the potential for failure, he appears undeterred: "When the Pilgrims left Plymouth in 1620, they weren't sure they were going to make it either. Our risk by comparison is trivial, so let's put it in perspective. We have to take risks or we'll never advance."
Phaneuf admits that while he's sometimes kept up at night with nightmares of MAS being sunk in a storm, hit by a ship or taken by pirates, moving beyond that fear is the whole mission.
"I'd love for the legacy of the project to be to inspire kids to be fearless and have the determination to achieve. This is about science and adventure and rekindling a sense of wonder—we have to succeed."
Read the full PDF here: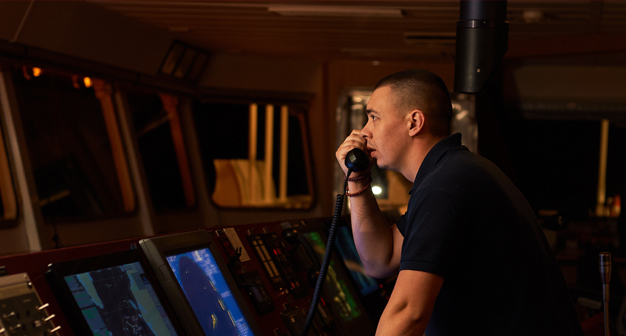 Contact Us
Contact sales for product and service inquiries.
Contact support to speak with an expert technician available 24/7.