How do I enter a license code into my DPX unit?
The Verify DPx software is supplied under a limited licence and is activated by the entry of a license code. The license code is specific to the LD3 (or LD3S) which is interfaced to the system.
If a valid license code is not entered into the DPx computer the three traffic light indicators will continually flash red in the main display windows – even if the user attempts to acknowledge the alarms. (The traffic lights will only flash in the main displays, they may appear normal in the configuration displays.)
A new code must be obtained from the VERIPOS Helpdesk.
The user must provide the ID of the LD3 (or LD3S). This is a 5-digit number engraved on front panel.
The license request should be submitted by email since the license code is typically 24 characters in length and contains a mixture of upper and lower case letters as well as numbers. It will normally be provided by the Helpdesk as a text file, named "License.txt". You may rename the file before use if required.
From a main screen touch the Information icon in the bottom right corner:

This opens the Information screen as shown below: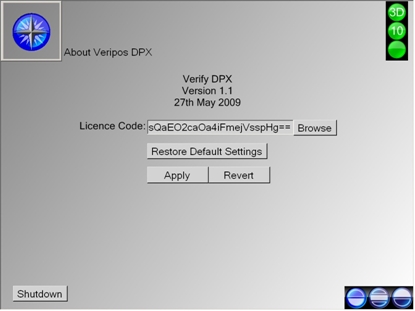 The program version and the release date are displayed. This screen also allows the user to enter the License Code.
To enter the License code, either import the text file from a USB memory device or attach an external keyboard and type the code in manually. File entry is strongly recommended as the License Code may contain both the number zero and upper case letter "o".
To import as a text file, first copy the licence code file to a USB Key. Insert the USB Key in to a USB port on the VERIFY DPx Panel PC.
Touch the Browse button to the right of the Licence Code entry box and locate the file License.txt using the browse function. Touch Open to import the content into the License Code box.
Touch the Apply button to accept the new code.
Incorrect entries may be removed by touching the Revert button before it is applied.
Finally return to the main display by touching the home button. (Top left of screen.)