LD900 Receiver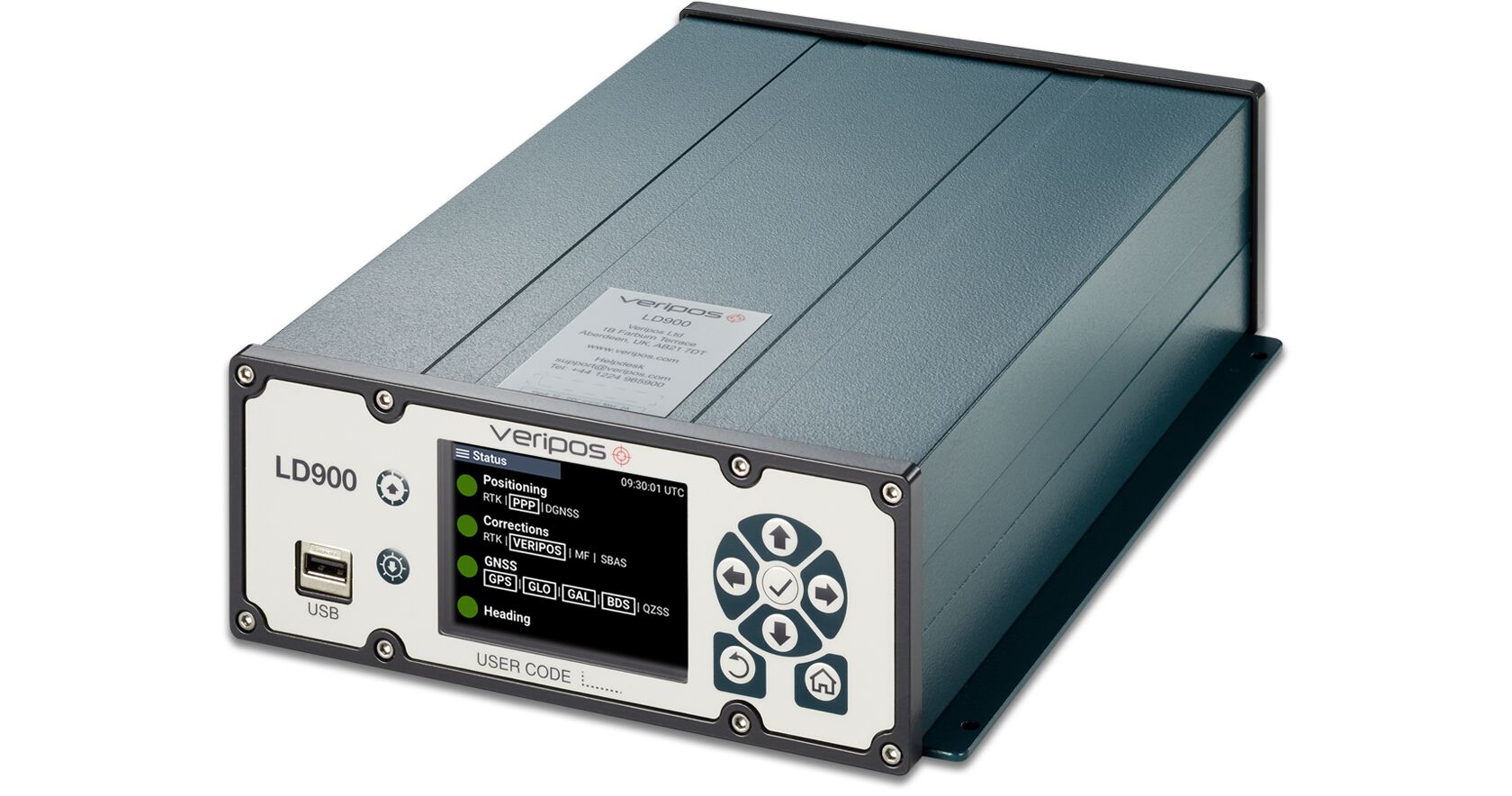 The LD900 from Hexagon | Veripos is a quad-band GNSS receiver, capable of tracking GPS, GLONASS, BeiDou and Galileo constellations to provide reliable and accurate positioning. Access to multiple GNSS signals allows for better satellite availability and reduces the impact of satellite masking or blockage. This built-in redundancy is enhanced when pairing LD900 with Quantum visualisation software and its interference and spoofing mitigation tools.
LD900 receives L-band signals on multiple channels providing access to the worldwide independent correction links and services supplied by Veripos. With correction data available simultaneously from multiple correction satellites, the impact of satellite masking can be minimised to ensure reliable reception of correction data. Using the independent L-band RF input on the LD900 allows the connection of a dedicated L-band antenna providing optimal reception of correction services, especially at high latitudes.
The quad-band receiver is compatible with SPAN GNSS+INS technology enabling a holistic 3D positioning solution. SPAN technology combines GNSS and inertial measurements to understand heading, attitude, velocity and heave, optimising positioning in a marine environment.
Veripos provides accurate and reliable positioning for all marine applications via their redundant positioning and multi-frequency precise point positioning (PPP) Apex and Ultra services. The Apex PRO correction service delivers up to 2.5 centimetre positioning accuracy in as fast as three minutes through the power of Hexagon's RTK From the Sky technology. Veripos PPP corrections ensure the highest positioning accuracy, reliability and redundancy for the most demanding offshore applications. Real-time kinematic (RTK) corrections can be used for applications where this service is required.

Quantum visualisation software enables remote configuration and implementation of GNSS Resilience and Integrity Technology (GRIT) functionalities to detect and mitigate interference. Quantum visualises the RF spectrum for real-time situational awareness of RF signals and potential interference. The user can apply digital notch and bandpass filters to immediately protect the system from interference, jamming and spoofing threats.
Features and Benefits
Supports centimetre-level multi-constellation positioning with Veripos Apex and Ultra PPP correction services
Multi-channel L-band allows simultaneous tracking of multiple Veripos correction service satellites
Independent L-band RF input
Easy-to-use, intuitive, color display for simple configuration and monitoring
Advanced signal filtering mitigates the effects of interference from other transmitters
Optional ALIGN GNSS heading solution
Optional MSK Beacon receives corrections from IALA marine radio beacon network
Automatic 72 hour rolling data log for incident support
Specifications
Physical Characteristics




Receiver Size




300 x 200 x 80 mm

Weight

3.8 kg

Operating Temp

-15°C to +55°C

Input Voltage

+12 to +24 VDC

Power Consumption

13 W (typical)






Data Ports & Interfaces







RS-232/RS-422 Ports

3

RS-232/RS-422 Expansion Ports

3

USB Ports

1

Ethernet Ports

2
PPS Output

1

GNSS Options

GPS

GLONASS

Galileo

BeiDou
QZSS
NavIC (IRNSS)
SBAS
L-Band